Staple #11: The Slim Wallet
by
Tanner
We all know about the average man's tendency to carry too much in his wallet. Seinfeld even did an entire episode on it. And of course the guilty one was George. Don't be a Costanza.
Rather than carry around a bifold, I recommend a card case. By design, it limits the amount of space you have. Most can only hold between four and six cards with a little cash. Not only does it prevent you from carrying around every itemized receipt from the beginning of the year, its limited structure will help prevent you from carrying around too many credit cards. It's an extra bit of help for those who don't have the self-discipline to only spend what money they have.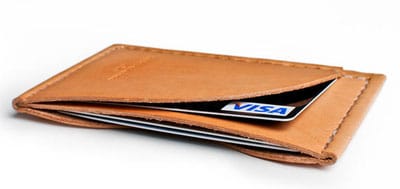 On top of carrying just the cards, it also leaves you a little room for one or two bills. My father taught me to always have a $50 bill in my wallet. That way, if there's ever a situation that comes up where cash is your only option you not only have some, but should have enough to cover whatever it is you're buying. Also, if you have it in one large bill, you'll be hesitant to break it and won't end up spending an extra $50 every week because the $20′s and $1′s are burning through your pocket.
If you plan on doing something that requires a bit more cash, carrying a card case without room gives you the perfect opportunity to use either a billfold or money clip. Both are viable options and both serve different purposes.
The billfold is a bit more old school and a lot more discreet. There's little flash to carrying something like this and it gets the job done nicely.
A money clip steps it up a bit more.  It's more associated with high rollers so you have to have the attitude to pull it off. Actually, no matter how poor you are, as a man, you should have the attitude to be able to pull off a money clip if handed one. The best place I've found these for a decent price is vintage stores. You can get old gold ones or even some like this gun-metal black if you're lucky.
Here are some good examples of card cases.
The very last one is actually a case I made myself. I do leather work and am starting to sell my products. If you're interested in a wallet, I'll sell them for $25 to readers. That's basically enough to cover the cost of supplies and my time for doing so. If you want one, send me an email and we can work something out.