Most men will dress casually unless they have a reason to do otherwise. And since casual has devolved into sloppy, most men dress sloppily unless they have a reason to do otherwise.
Transitioning from the jeans and t-shirt uniform to something more appealing is difficult and one of the main reasons why is you can feel overdressed and awkward by outdressing everyone else.
A good way to make the transition easier is by adopting the high-low mentality.
Essentially you mix elements of a dressier wardrobe with those of a more casual one. The go-to staple for this is jeans with a button-up shirt and blazer. It's the perfect outfit for going out on the weekend, visiting family on Sunday or going to class. Casual enough that you never look out of place but dressy enough you don't look like a slob.
But there are other iterations of this ideal as well. One that I've been toying with lately is wearing dress slacks and shoes with a t-shirt and a leather jacket. By going dressy on bottom and casual on top, you still accomplish the high-low effect but are able to do so in a way that separates you from other men. In a sea of dark jeans and navy blazers, a pair of tweed or flannel pants and some leather is going to stand out – in a good way.
Be careful in how you interpret casual though. Wearing a blazer and tie with holey, boot-cut jeans will still make you look goofy. Choosing more casual fabrics in dressier or more classic cuts is the key to pulling off the high-low. Here's a good example from Primer.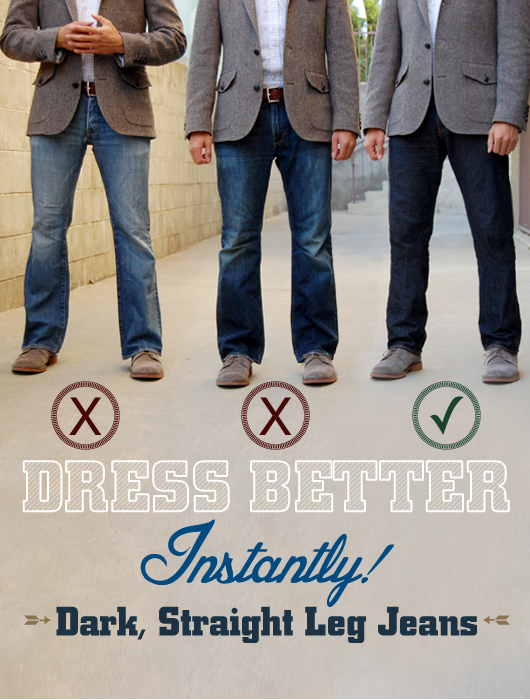 Same goes for the dressy element. A real sartorialist can pull off a tuxedo jacket with his jeans, but most of us are better off with a blue blazer instead.
By upping your casual and decreasing your dressy, your total overall appearance will look more uniform.
Here are some good examples of high-low
And some bad ones