Most guys don't think they'll ever have to wear a tux once they're done with high school and the prom. However, while a tuxedo is becoming increasingly rare in anything besides the upper class, odds are you'll have to throw one on once or twice in your adult life.
I'm of the opinion that it's better to buy a tux than to rent. For some, the idea of shelling out more than a grand for an ensemble that only sees the light of day twice over 40 years is ridiculous. Thankfully, companies are starting to make more affordable tuxedos and there's even an option through online custom tailors like Indochino.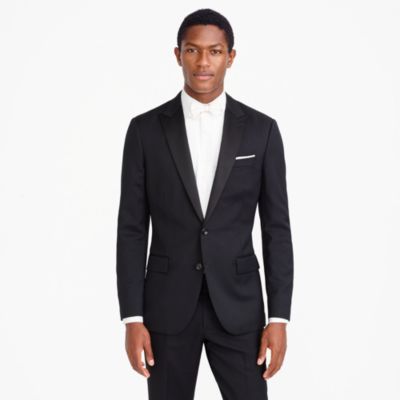 The history behind the tuxedo isn't a nail biter but one of men trying to find a balance between a lounge suit (what we just call a suit) that was worn in the country by English gentlemen and the extreme formality of tailcoats that were worn after dark in the city. The dinner jacket (tuxedo) became an acceptable alternative to the tailcoat initially only for dinner parties at home, but was later popularized by men like the Prince of Wales and eventually replaced the tailcoat in most formal settings.
For this reason a man should know that a jacket with a long coat is not a tuxedo and is – in fact – too formal for anything besides a royal wedding. I shouldn't have to comment on the costumey aspect of it as well.
So what separates a dinner jacket from a lounge suit? The details are small but they're there.
Lapels
The primary indicator of a tuxedo is satin lapels. While these can be worn on notch lapels, that particular shape is much more casual and intended for suits and sportcoats. A proper dinner jacket will have either a peak lapel or the more formal shawl lapel. These will have a contrasting satin that can be found on the lapels only and hearken to the velvet smoking jackets that were the original tuxedos.
Colors
A proper tuxedo is one of two colors – black or midnight blue. Anything else, whether it's worn to a Snow Owl Gala or in a friend's wedding party is tacky. Stick with these dark options. The tux is after-dark formal wear and should be worn in colors that are flattering once the sun has gone down.
Jacket Pockets
A tux will have hip pockets just like a suit. However, in order to appear more formal and streamlined, these pockets will not have flaps.
Coverage
If you've ever wondered why the cumberbund became popular, it's actually fairly simple. A dinner jacket, just like any other coat, should have its bottom button left open (or only have a single button). Unfortunately with men wearing their pants lower and opting out of three-piece options this button stance leaves an exposed, triangle of visible shirt just above the pants (see above). This is visually incongruent and would connote sloppiness in the wearer. There are three alternatives to this issue:
The aforementioned cumberbund
A three-piece tux with a waistcoat (vest) that provides adequate coverage
A double-breasted dinner jacket.
Trousers
There are no odd jacket pairings with a tuxedo like you can do with a sport coat and a pair of slacks. The tuxedo pants will be cut from the same cloth as the dinner jacket and have a satin stripe down the outside of each leg to match that of the collar on the jacket.
On top of the tuxedo itself you will have to adequately step up the formality of your other clothing.
The Belt
Don't wear one. A tuxedo should fit your body perfectly and that means it won't need any extra help keeping your pants up. Most tux pants are tabbed to allow you to pull them a bit tighter once they're on your body.
The Shirt
White only. You will want to opt for french cuffs and make sure that you have modest but stylish cufflinks. The placket of the shirt (where it buttons up) with either be covered – as this is more formal – or allow you to have tuxedo studs that will match or compliment your cufflinks. The collar should be flattering to your facial structure and you will want to avoid the a wing collar – the collars that are open in the back and have just a small fold to cover the front. These are appropriate for a tailcoat but are too much with a tux. Wear a normal collar that flatters you.
The Tie
You can wear both a long tie or a bow tie. This should be common sense by now but I want to reiterate that a clip-on is never appropriate. If you're going to wear a bow tie, learn to tie it properly. Dimples are a good idea. The pattern of the tie should be either extremely minimal or non-existent and its color should match the tuxedo. Contrast ties are very difficult to pull off without looking like a bad wedding so stick with simple and classic.
The Shoes
The more streamlined your dress shoes are, the more formal they look. For this reason you will want to stick with black oxfords. You are also going to avoid a shoe that has any contrast stitching, broguing, or wing tips. Socks should match your tuxedo color as well so a midnight-blue tux calls for midnight-blue socks.
The Secret
The secret to both looking great and standing out in a tuxedo is to simply focus on looking great. Far too many men are worried about looking like they came off the assembly line when they wear a tux so they will try to spice it up. Loud socks, a top hat, a cane, crazy cuff links, and any other iteration that may run through your head should be left for another time. Wear it sincerely, classically, and unironically and you'll look like Bond.
PS. Did you know I do private style consultations? I can help you dress better according to your budget and your needs.