Got a question from a reader over the weekend.
I found your site from the mmsl article today. I've poked around a bit but didn't see a post on a topic of interest to me and likely many of your readers: shoe color. I've seen men wear brown shoes with a navy suit and like the look but have never really felt comfortable doing it myself. I guess my question is does anything go with a navy suit or are there things to stay away from? A post with various pictures of good/bad combos would be great.
The short answer is yes – almost anything goes with a navy (or grey suit). The long answer is – it depends on what you're trying to accomplish.
There are some men like myself and the vast majority of Italians who are of the opinion that black should only be worn in the most formal of events like at a funeral or with a tux. For the most part this is personal preference, however it is based on a style truth:
The darker the color the more formal its appearance
For dress shoes, this means the spectrum will go like this:
Black is more formal than chocolate-brown which is more formal than a lighter brown.
As the color gets lighter it becomes increasingly more casual.
Black
Here's a good example of a navy suit with black shoes. Even with the brighter colors in the shirt, tie, and pocket square, the black of the shoes anchors the navy of the suit and makes it appear darker. This gives a more serious appearance to his overall look (which is impressive given how loud and patterned his other articles are). If you do decide to go the route of black shoes, you don't want black socks. The only time you will ever want black socks are with a black suit and only a man with a stark contrast should be wearing one of these before dark. Instead, you will want your socks to either match the color of your suit (navy with navy, grey with grey, etc.), work as a transition between your shoes and suit (charcoal socks with a grey suit), or work with something else you have on (red socks with a pocket square that has red piping).
Chocolate Brown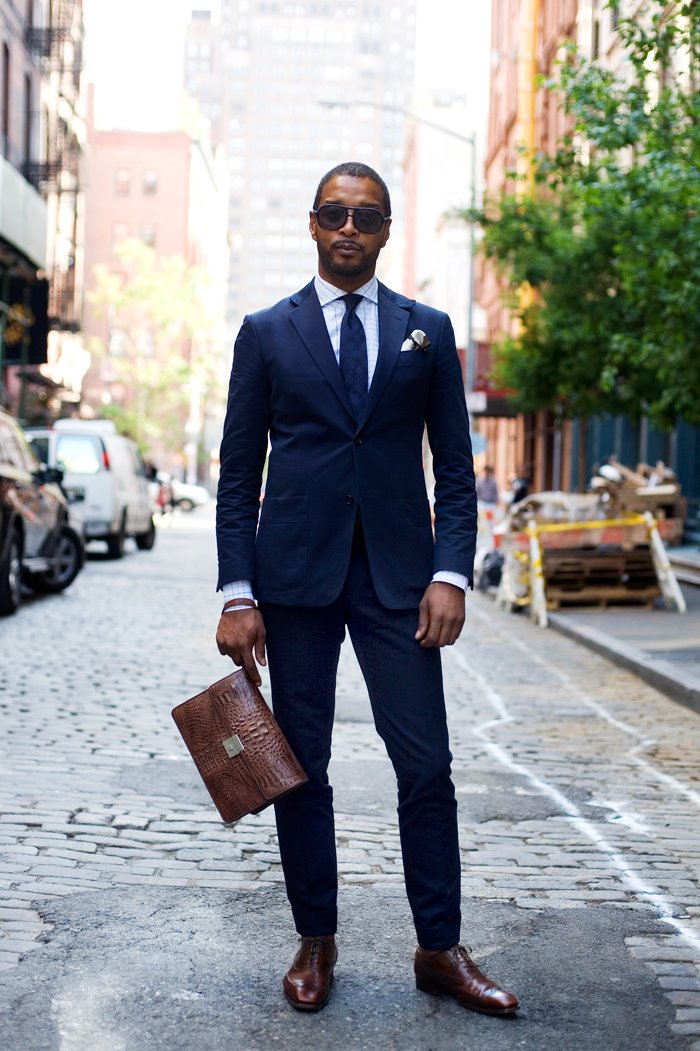 The chocolate shoes help lighten things up a bit but still keep this appropriate for more formal situations. This man would look great walking into a wedding or a boardroom. That being said, he could ditch the tie and be more comfortable in an airport lounge or club than he would be had he been wearing black shoes. Socks still follow the same guidelines as above but allow for more transitional colors too. He could opt for tan or cream socks to dress this down a bit more.
Walnut/Cognac
This is lighter configuration is going to make things appear more casual overall. A lighter shade of brown is going to be more youthful and a bit more fashion forward.  It's also the color that will grab the most attention. So if you're a bit of a peacock, these are the shoes for you. Sock coloring works the same here as with the chocolate shoes.
The beauty of both navy and grey suits is their versatility. You can wear the same suit/shirt/tie combo with three different colors of shoes and have an entirely different look for all three. So follow the rule of darker being more formal and you'll be able to get more use out of your greys and blues.
PS. Did you know I do private style consultations? I can help you dress better according to your budget and your needs.