I had a friend in high school who once wore the exact same outfit every day for a month just to see if anyone would notice. We did. He looked stupid and smelled even worse. While variety is the spice of life, sometimes there are items that you only buy one of. As great as it would be to have a different car to drive every day of the week, most of us just get by with one.
The pack you use for school will fall into that same category. Your clothes will change but you'll carry that same bag almost every day. So it's important to make sure it's one that works and looks good.
Just like with the other Back to School posts, the first thing you'll need to determine is your level of formality. A third-year law student should avoid a skater pack and a junior in high school doesn't want to carry a leather brief case around.
Skate Pack
If you're hard on your stuff or you use your backpack in precarious situations, you'll want a skate pack like the Nixon
one above. Don't go easy on it as it's built to withstand some abuse. The skate pack has evolved into something more simple and streamlined so it doesn't stand out like a sore thumb if you're wearing one with a blazer and some bucks. Perfect for high school and undergrads, it's time to upgrade if you're a grad student though.
Rucksack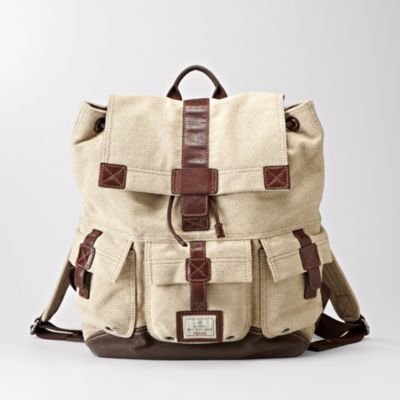 Trail packs and rucksacks have been using by adventurers forever. Think of them as the still-stylish cousin to your ratty cargo shorts. The military history gives them a distinctly masculine feel and the extra pockets go a long way in helping you carry things like phone chargers, sunglasses cases, etc. The beauty of a rucksack is that it mixes utilitarianism and tradition perfectly so you can carry one of these your first day of high school or in your last year of med school. It's the perfect High/Low pack.
Canvas Messenger Bag
This was my personal choice my whole time in college. It fit a laptop and the occasional book or two without bulking up too much. I also liked having the one strap instead of carrying two on my back. A canvas option
 is going to be more casual and it's also going to cost you considerably less. And, while it's not as bulletproof as the Skate Pack, these things were originally made for hard-riding messengers and will get the job done. There's an unspoken association between messenger bags and college so I won't recommend this for a high-school kid.
Leather Messenger Bag
Works the same as the Canvas Messenger but steps things up in the formality, durability, and price departments. Since they are more formal this is something you'll want in your last year of your undergrad or in grad school. Think of it as Indiana Jones' briefcase. It's nice and will keep your documents/laptop safe but it will survive a bike crash or being chased by the natives. With anything you do in leather, choose brown instead of black. It's still formal because it's leather but it's more versatile with what you'll be wearing and the situations you'll be in by going with brown.
Briefcase
The most formal on the list is obviously the briefcase. You want to avoid the hard cases that were ubiquitous in the 60's and opt for something softer and all leather
. These can range from a couple hundred bucks to thousands of dollars. The thing about a brief case is that it communicates you've already arrived. If you start carrying one too young or without the right confidence it'll be easy for everyone to tell. It is just a bag, but a brief case is still a symbol that demands a certain amount of respect so make sure you have the acumen to demand that same respect yourself.
A pack is going to be used everyday so you also want to make sure the function fits your needs. It's pointless to have a beautiful briefcase when you ride a motorcycle to school and don't have any shoulder straps for it. Lastly, look to historical men's bags for inspiration. You will find classic shapes and functions along with visual references to masculinity by sticking with something tried and true.
PS. Don't forget I'm running a deal on Basic Consultations all month this month as a back-to-school special.