Got this from a reader last week:
I realized I forgot some long sleeved fall wear when I was going thru my wardrobe. I have a couple of polo sweaters and a cool navy sweatshirt, but the school week is five days long and I'm starting to live by the principle: "Anytime anyone sees you, you should be dressed better than the people around you." I'm even starting to look down upon people who don't take care of their style even though I was among them at one point.

I need to pull off a peacoat, that will give me four pieces of fall wear. Still not enough for my ever expanding closet. What else should I target??
Now this guy happens to still be in high school but his concern is valid for any age group. I'm going to assume that he's asking about casual wear because your dress shirts should already be long-sleeved and you should also either be wearing a suit or a sport coat in the cooler months. I'm also not going to write about casual button-ups as that was already touched on last week in my post on work shirts. Instead, we'll focus on other options and, as always, I'll start with the most casual and then work up from there.
Waffle Knit Thermal Crew Neck
 This is really just a beefed-up T-shirt. The long sleeves and the waffling make it more substantial so it will wear warmer and drape better, which will make it look better as well. Essentially this used to be men's underwear but now can be worn in any casual situation. Wear it in class, up at the cabin, or making a stop at the grocery store this time of year. Because it's a casual shirt, I don't like to spend too much on these. You can find them at Target for about $14.00
Long-Sleeve Henley
Nothing really new or revolutionary about this as it's just a long-sleeved version of the tried-and-true henley. Still a very casual option but the buttons help dress it up a bit. You could get away with wearing it on its own in a casual situation or dressing it up under a blazer for some High/Low appeal. Since this is casual as well, it's another option you'll want to pick up from Target or Old Navy.
Cable Knit Crew Sweater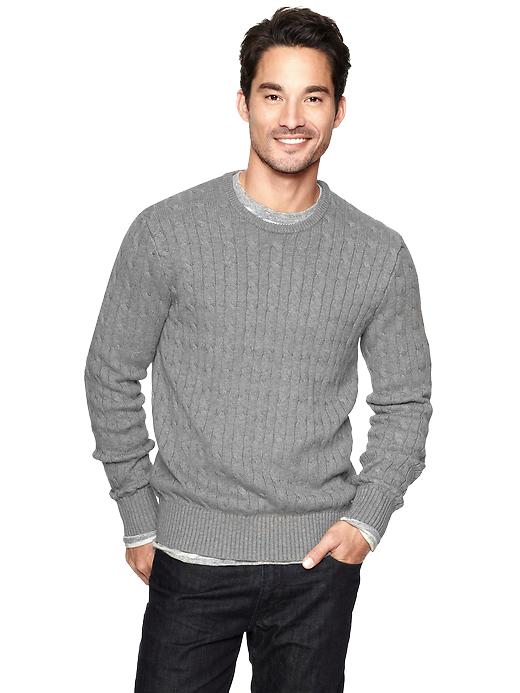 A cable knit sweater is going to be the heaviest of a man's casual options. These were originally made in coastal regions and used by fishermen and dock workers to keep warm. The crew neck was functional but is also what keeps it casual. It's too big and bulky to be worn with a suit but is awesome on its own. I recommend wearing it without a collared shirt underneath as it's a very casual, blue-collar sweater and should be embraced as such. You'll pay a bit more for one of these but should be able to find them under $50 at places like H&M and the Gap.
Rugby Shirt
A rugby shirt is the one of the biggest improvements any guy under 30 can make in his casual style game. It's a hoody that has replaced the hood with a collar so it should replace any hoody you have in your closet except for the one you keep in your gym bag. The origin of these should be fairly obvious and even though most people won't be able to consciously recognize that they're worn by rugby players, they will make a subtle association between one of these and sporty manliness. A rugby can be worn on its own or layered beneath a blazer as well.
Slim Cardigan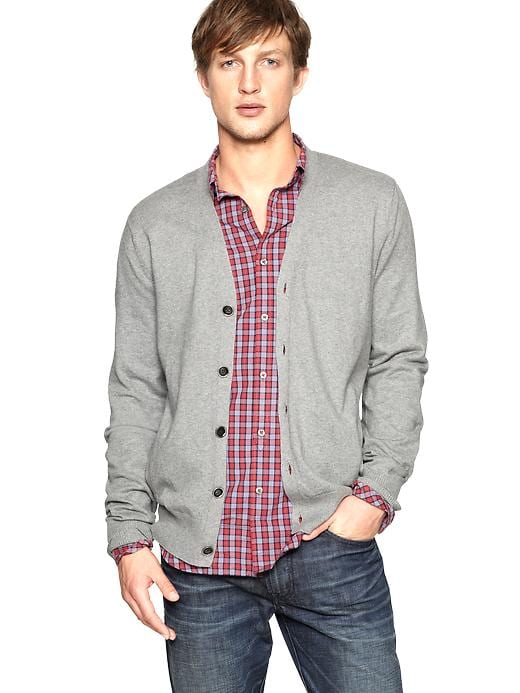 Cardigans are huge right now and have been for a couple of years. Thankfully they're based on traditional styling so they're a way to look timely and timeless all at once. The key to avoiding any hipster associations is to make sure your cardigan fits you like everything else. Most hipsters will wear these too big and contrast them with pants that are too skinny, thereby making them appear even more scrawny and feminine. Stick with the right fit and you'll look masculine. Slimmer, simpler options like this above can be worn over a T-shirt, with a button-up shirt, and even with a suit. They're the most versatile of any option in this list and should be in every man's closet.
Shawl Collars
These can be either pullovers or cardigans. The collar dresses it up a bit and can be worn over a shirt and tie. However, you won't want to wear these with a suit as the collar is still too casual for that. Usually shawl collars are made on thicker sweaters that are best if worn on their own instead of as a layering piece.
V-Neck Sweater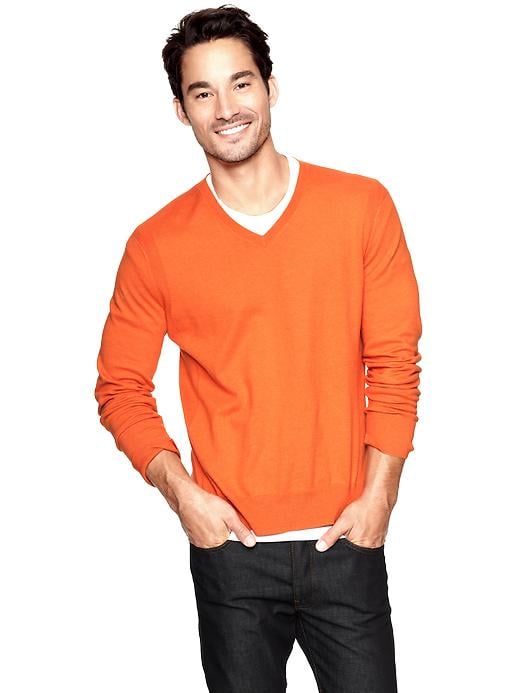 I've already dedicated an entire post to the V-neck sweater so I'll just reiterate that this is a Staple for a reason. Can be dressed up or down and is the most suit-appropriate option in this whole list.
Chunky Cardigan
Just like the rugby is a better option for guys under 30, a chunky cardigan is better for men over 25. They're essentially the sweater version of a blazer and are meant to be worn on their own. These are not work sweaters and are best kept to situations like Thanksgiving dinner with the family instead of the deer hunt. You'll pay more, but the investment is worth it if you live in a climate that's cold more than six months of the year.
Remember that these are all options that can be worn either with or instead of long sleeve button-up shirts. Given all the alternatives out there you should be able to do more than just five day's worth of variety this fall.
PS. Don't forget about the Instagram Contest. You can win a free Basic Consultation or five free Style Evaluations.